This article, Pandora's Box, is the sole property of Phoenix and cannot be used, edited, or referenced without her permission, with the exception of collaboration articles, whereas terms listed above are unserviceable.
"In life, the road to darkness is a journey, not a light switch."


This article is under construction by the author(s) of whom this article's property falls under.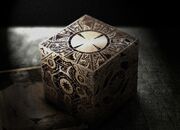 Pandora's Box is a legendary object, opened by
Pandora Scarlette
, unleashing
Danny Rossum
on the world. She carries it with her as a reminder of what she has done.